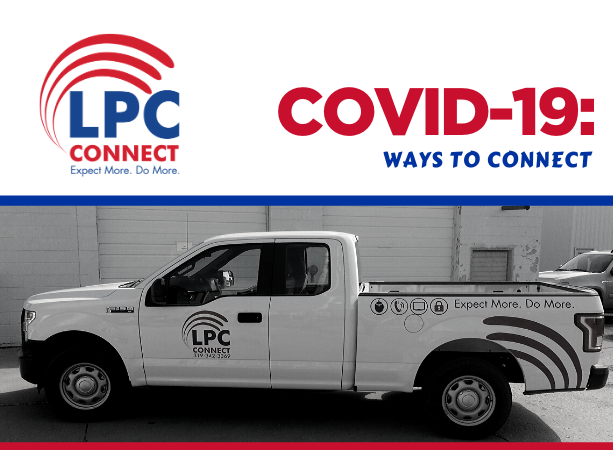 There are many ways you can connect with LPC Connect without coming into the office or leaving the comfort of your home. Please rest assured that all methods are safe and can be a convenient alternative to in-person contact.
Technical Support:
Please contact Technical Support at 1-855-558-9863, which is available 24 hours a day, seven days a week. You can also live chat online to receive assistance.
Payment Options:
Pay by Phone — Give us a call to pay your bill over the phone. We will verify your identity, confirm your monthly bill amount and proceed with payment options.
 Pay by mail — If paying by mail, include a signed check for the amount listed on your monthly bill. Please include your bill stub with the check and mail to us.
Pay by bank draft — You can sign up for automatic bank draft by using your checking account's routing and account numbers. With this option, your monthly bill amount will be deducted from your bank each payment cycle. You never have to worry about missing a payment!
Dropbox Locations — You are welcome to visit our office at 306 Main Street without the worry of personal contact or contamination. We have a dropbox located outside to serve you!
Keeping You Informed
As a service provider invested in our communities, we are committed to keeping our customers connected through these uncertain times. Clear, accurate information is vital during times of crisis. LPC Connect will keep you informed about how we are responding to the COVID-19 outbreak, along with ways you can protect yourself and your family. To ensure you see our information: